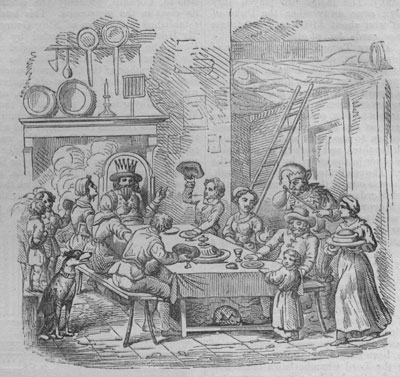 Convivio is an Italian word that translates to feast or banquet. It shares a common Latin root (convivialis) with our jovial English word conviviality, which has to do with festive eating, drinking, and good company.
Like Old Fezziwig closing up shop early to prepare the place for Christmas Eve festivities, or like Ichabod Crane setting off for the Van Tassel's Merrymaking and Quilting Frolic, the proprietors of Convivio Bookworks are known to love a good feast.
We've been printing from antique letterpress equipment and making books by hand since 1995, when we began making books under the press name Red Wagon Press. In 2001 we updated the name to Red Wagon Bookworks, and in 2003 made the leap to the press name you see here. We feel it suits us well, and hope you agree. By purchasing from Convivio Bookworks, know that you are supporting the artisans directly, earning you the title Patron of the Book Arts and the gratitude of all involved: writer, illustrator, printer, papermaker, bookbinder.
Our catalog also includes some of our favorite traditional things for seasonal celebrations. We make every effort to gather these things from the most authentic sources, and feel quite strongly that the best Advent calendars, for instance, come from Germany, where they were first printed, as do the best Christmas nutcrackers and pyramids, where craftsfolk have been making them for centuries. We also strive to connect you with simpler, quirkier celebrations, too, like Dia de Muertos (Day of the Dead), and we bring you items for this holiday from Mexican craftsfolk who are also working in centuries-old traditions. It's part of what we call the ceremony of a day.